Google Drive Guide 
I. Introduction
Google Drive is the proprietary file storage and synchronization service provided by Internet and software giant Google. True to its mission to "organize the world's information," Google gives Google Drive users the power to efficiently store and manage all their files online for free.
Google Drive aims to make people's files ready wherever they are. In brief, the service allows users to:Store different kinds of files online (text documents, spreadsheets, images, videos, music files, PDF files, and so on)
See and edit many of their files on any computer, smartphone, or tablet
Invite other people to view, edit, or download the files
Collaborate with other people by sharing ideas and inputs in real time
Google Drive uses a productivity software suite that is tightly integrated into the service. Praised for its no-nonsense user interface and its excellent features, this office suite includes a word processor, a spreadsheet program, a presentation application, and a survey generator, all of which will be discussed in detail in succeeding chapters.
Initially, Google's online document-sharing service was known as "Google Docs." In April 2012, the tech company launched Google Drive, which expanded the existing Google Docs platform to provide users with storage and sharing capability for movies, pictures, audio files, PDFs, and many more, all in addition to Google Docs' document storage, editing, and collaboration functionalities. The name "Google Docs" was subsequently used to refer to the service's indigenous word processor application, which was originally known as "Google Documents." In the same year, Google also expanded its free storage capacity from 1GB to 5GB, surpassing those provided by its competitors, most notably Dropbox's 2GB storage.
Google Drive is an excellent and cost-effective tool which allows students, educators, office workers, and entrepreneurs to efficiently manage their tasks and to effectively collaborate with their colleagues. This primer will introduce you to the most important features of Google Drive applications and provide you with a basic outline of how they can help you with your tasks.
II. Overview: Google Drive, Docs, Sheets, Slides, and Forms
In the past, when people needed to work on a document using their computers, their only option was to email that document back and forth to one another while editing it separately each time. The beauty of Google Drive is that it allows users to quickly invite others to view, edit, and download any document that has been uploaded into the platform. It also allows people to work on documents and share ideas in real time, thus streamlining and optimizing the collaboration process.
Users can also easily upload documents like Microsoft Office files into Google Drive, and the system will automatically convert them to the service's native office suite documents. Whether it's a text document, a spreadsheet, or a presentation deck, you'll be able to store, open, and edit these files in Google Drive.
Google Drive Applications
As mentioned, Google Drive features an office productivity suite that people can use to create the files. The suite is composed of the following apps:
Google Docs – A word processor for writing, editing, and sharing documents
Google Sheets – A spreadsheet application for creating, editing, and sharing spreadsheets
Google Slides – A program for producing presentation decks
Google Forms – An application for collecting and organizing survey information
Google Drawings – A program for creating, editing, and sharing diagrams and illustrations
Google Fusion Tables – An experimental data visualization web program for assembling and sharing data table information
Google Drive allows users to:
Store any kind of file – Google Drive currently offers 15GB of free online storage, meaning users can store documents, photos, videos, audio recordings, illustrations — practically anything — in the cloud (i.e. in Google's remote servers). The storage space is shared across other Google services, including Gmail and Picasa Web Albums.
Access files anywhere – Because the files are stored in the cloud, users are able to access them from any computer, smartphone, or tablet that has Internet connection, no matter where in the world those users may be.
Share files with others – One of the most important advantages of using the Google Drive office software suite is that it gives users the capability to create, view, download, and edit the documents online while working and collaborating with other users in real time. Wherever they are, the collaborators can simply access the files from the Internet using any computer or handheld device because these files are stored online. Furthermore, users can even use the Google Chrome browser to work on some of these files when they are not connected to the Internet.
Because the Google Drive productivity software suite is compatible with Microsoft Office file formats, the latter can be easily edited directly in Google Docs, Google Sheets, and Google Slides. These three apps are also available not just as web applications, but also as Google Chrome apps that work offline, as well as apps for mobile operating systems like Google's Android and Apple's iOS.
Cloud storage plans are also available for users who need more than the 15GB of free storage space that Google Drive offers. The current offers include 100GB ($1.99 per month), 1 TB ($9.99), 10 TB ($99.99), 20 TB ($199.99), and 30 TB ($299.99).
III. Google Drive
Google has made a lot of headway by linking all of its popular Google services (Docs, Sheets, Forms and Slides) to the cloud-based storage Google Drive. It is considered as one of the most well-used cloud storage services, due to the connectivity it has between its other services. Enterprises all over the world get a lot of functionality out of it such as storing work-related files, collaborating with others on a specific project, and using it as both an online and offline file management system.
In its core, Google Drive is a cloud-based file management system that users, regardless of operating system, can easily familiarize themselves with its use. It has an intuitive interface that keeps things simple, yet it also sports all the important functions that you would expect in any robust file management system – everything from copying, moving and deleting files to creating folders and sorting all created documents in them.
It has many useful features that include:
A basic storage capacity of 15 GB that is shared across Google Drive, Gmail and Google+. Items that count towards this total include: all emails and attachments on Gmail (including the Trash and Spam folders), all files stored on Google Drive and all images over 2048×2048 pixels or videos longer than 15 minutes on Google+. If you need more storage space, Google offers various plans to expand your Google Drive file capacity.
Upload or create files via Google Docs, Sheets, Slides and Forms, then store them on Google Drive.
Share files and give access permissions (whether they can simply view the file or they can edit and comment on it) to other Google account users.
Drag and drop files to move them to and from any folders created on the Drive.
Sync all files with your computer by downloading the Google Drive application. All files on your desktop are synched online with Google Drive. This allows easy moving, copying and deleting of files from your computer to Google Drive.
Extended mobile functionality that allows your mobile device to print files from Google Drive, as well as scan documents and upload them.
Allows for offline access of files that are tagged by the user.
Power Tips for Google Drive:
Gmail has a maximum attachment size of 25 MB. Because of this, it's best to use Google Drive to send files that are larger than this. Google Drive can send files as large as 10 GB to other users, which they can also view online. You also have the option of storing your files on your Google Drive and just share them with others.
You can select which folders you want to synch to your computer via Google Drive. There's an option under Preferences that allows you to selectively synch some folders instead of everything by default. Just tick off any folders that you don't want synched and it won't show up on your computer, although it will still be available on Google Drive when you access it online.
Files on Google Drive have a revision history tied to them. You can easily manage the revisions done to each file and view up to the last 100 revisions done to it. Google stores the information of the past 30 days, so you can easily return to an earlier version of a file that you were working on.
If you want to save space on your computer, you can set your Google Drive folders as the default location to where you save your files. Once you have Google Drive installed on your computer, you can open your Documents folder and add your preferred Google Drive folder on it. All files or saved on this folder will automatically be uploaded to Google Drive.
IV. Google Docs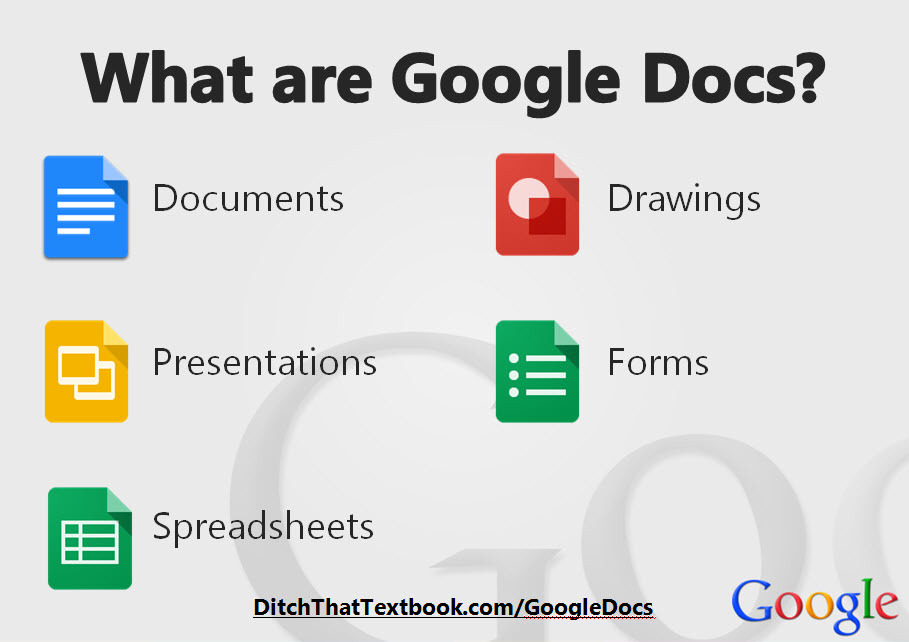 The advantages of cloud computing has become more apparent in recent years. Nowadays, thanks to cloud computing, people can create basic documents, access them anywhere in the world, and collaborate with others easily because these text documents can be stored online. Google Docs is one of the foremost examples of a personal cloud document tool that helps millions of people create, share, and edit text documents online.
Google Docs' origins date back to August 2005, when the company Upstartle launched a web-based word processor called Writely. The tech startup was acquired by Google in March 2006, and in February 2007, its new incarnation, Google Docs, was made available to users of Google Apps.
Today, Google Docs is one of the most popular cloud-based document software. It's free, and it's relatively robust, making it one of the most preferred products out there. Its most popular features include the following:
Google Docs lets you add more pizzazz to your documents through its smart editing and formatting tools that help you create different styles for your text. You can choose from thousands of different fonts, create texts of various sizes or colors, and add images, illustrations, and tables.
Users can access and edit the documents anytime, anywhere. Wherever they go, the files can always be retrieved from any computer, tablet, or smartphone.
Users only have to click share to be able to let anyone view, comment on, or edit the documents. It works, whether you need to share it with your classmates, work colleagues, or even family and friends.
The real-time editing feature of Google Docs lets you see your collaborators' cursors as they edit the document or make highlights to the text.
Google Docs also features a live chat feature that allows you to send a message to your collaborators. You can also add a comment with a plus sign (+) and your collaborator's email address to send them a notification.
Google Docs is compatible with Microsoft Word. A Microsoft Word document can be easily converted to Google Docs format and vice versa, so you don't have to worry about having to buy a new piece of software to be able to do this.
Power Tips for Google Docs
You can retrieve your document even when you are not connected to the Internet. Offline editing can be accessed through the Google Chrome browser. You simply need to sign in to Chrome, visit Google Docs, and offline access will be automatically turned on.
Take note, however, that you should only use offline access on your own computer or device. Turning on offline access in public computers could put your data at risk.
Use Google Docs' Research tool to search for things like images, word definitions, quotations, and scholarly articles. The Scholar Article Search allows you to add citations and references in style formats like MLA, APA, and Chicago.
Google Docs also allows you to include add-ons, which are software created by third-party entities. Some of the add-ons you can install include those that let you find word synonyms, send fax messages, create bibliographies, do audio conferences, create mind maps, make track changes a la Microsoft Word, and so on.
V. Google Sheets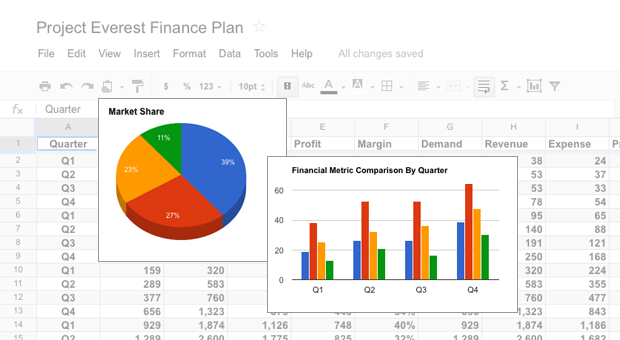 The introduction of spreadsheets in computing has been a boon for people who organize and examine large amounts of data. By allowing users to electronically store data in tabular form, the days of painstakingly entering data into paper worksheets were finally over. Furthermore, computerized spreadsheets are also mathematically more accurate and reliable, thanks to their built-in calculators and formulas.
Among cloud-based spreadsheets, Google Sheets is one of the most popular. Its beginning can be traced back to the product XL2Web, which was developed by 2Web Technology, a New York-based software company that was acquired by Google in June 2005. A year later, in June 2006, Google launched Google Spreadsheets on its experiments site Google Labs.
Today, Google Sheets is a full-bodied online spreadsheet application that allows users to create useful, powerful, and complex spreadsheets. Its features include the following:
Google Sheets lets your data stand out by giving you the ability to create colorful charts and graphs.
The application streamlines your tasks through its built-in formatting selections, pivot tables, and conditional formatting functionalities.
Like with Google Docs' text documents, Google Sheets also allows multiple users to work on the same spreadsheet all at the same time. Just click share to let other people view the file, whether they're your family or friend, or someone from your school or place of work.
When you and your collaborators work on a document at the same time, you'll be able to one another's cursors as they you make changes.
Google Sheets users can also use the live chat picture to send messages to others in real time. You can also add a comment with a plus sign (+) and your collaborator's email address to send a notification.
Google Sheets is completely compatible with Microsoft Excel spreadsheets.
Power Tips for Google Sheets
Google Sheets has an inventory of templates which you can use to help you get started on your project quickly. Simply hover over to "File," select "New," and finally, select "From Template" to choose from hundreds of different built-in templates, whether you need an expense report, a sales voucher, a travel planner, a student evaluations sheet, and so on.
Like in Google Docs, you also have the option of including software add-ons in Google Sheets. There are tons of add-ons to choose from, each of them providing specific functionalities that are not indigenous to the Google Sheets application. You'll find a lot of these to be helpful in your data organization tasks. You can also use Google finance to include stock data to manage your retirement fund, see example here.
One of the key features of many spreadsheet programs is conditional formatting. Google Sheets also has conditional formatting functionalities, which allow users to apply formats to a cell or a group of cells, and to have those formats changed depending on the values that you enter into the cells or the formulas.
VI. Google Slides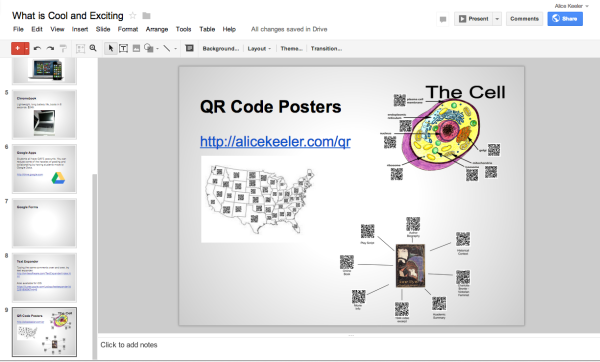 Google tries to present a complete suite of commonly used applications for both home and office work. Google Slides rounds this out by allowing you to create slideshow presentations in a quick and easy manner. It's evident from the get go that it doesn't exactly have the same bells and whistles that other slideshow presentation apps like PowerPoint have. However, its strong suit is being able to efficiently deliver a presentation in an online setting – perfect for eLearning sessions or a quick online meeting.
Google Slides has several templates that you can jump straight into and create your presentation. Once you're done, you can then publish your presentation and share the URL with those you want to show it to.
Here are some of the other major features that Google Slides has:
Easily share presentations with others by sharing the URL to the presentation with them. You can also change permission access to the presentation if you want to work collaboratively with others on the presentation.
Customize your slides using pre-set tools for themes, transition and animations.
Allows you to upload images straight from Google Image Search.
Compatibility with both Android and iOS devices, which allows you to create, edit and view presentations.
Supports .ppt, .pptx and .pps presentation files when uploading them to Google Slides.
Power tips for Google Slides
You can directly share and present your slide via Google+ Hangout. That's right! Anyone who has joined you in a Hangout can have the room converted into an instant webinar conference.
When presenting online, Google Slide's HTML mode allows you to not only share your slides, but also give you an easy method of showing websites outside of your slides. HTML mode shows your all slides in a scrollable format while making the tabs and address bar of your browser visible at the same time. This makes it so you can easily switch from your slides to your tabs and show your viewers any sites that are relevant to your presentation.
Assigning permission access to several people allows for a great "classroom" atmosphere, where several people can share and exchange ideas about the presentation. Anyone can insert presentation notes to help others, as well as provide various layout designs.
VII. Google Forms
There are many different online survey tools out there that have enjoyed varying degrees of success. Google throws its own hat in the ring by introducing Google Forms to its users. Similar to other survey tools, it is a survey and form-making application that is quite versatile and makes full use of Google's document sharing features. If you need a quick way to create surveys, polls or quizzes, then this is one tool that can certainly address your needs.
Here are some of the other features that Google Forms has:
Google Forms allows users to create any number of forms and surveys, limited only by Google Drive's space capacity.
Customize the look and presentation of the form using tools which can control the theme, navigation, images and overall layout as it is seen by the users.
Share the form with other collaborators and set the level of access permission that person has when viewing or editing the form.
Results of the form can be stored directly into a spreadsheet or retained on the form.
Receive email notifications when someone answers a form. The notifications received can be sent each time a form is completed or as a daily digest.
Supports a data validation feature that ensures users are able to follow a set format for their answers.
Allows you to embed the form as an iframe tag within a website.
Power tips for Google Forms
Google Forms supports logic branching, allowing you to further tailor fit your form based on the answers of your users. For example, if they choose option on your form which identifies them as 18 years old and below, they can get a specific set of questions that pertains to their age group. This is a great way to customize your forms based on the demographics of the respondents.
When determining where to store your form's result, consider the possible number of respondents. Take note that Google Sheets has a limit of 400,000 rows. If you decide to store your responses on the form, you always have the option to exporting it as a .csv file and analyzing the data afterwards on a separate spreadsheet program.
Google Scripts can extend the functionality of your forms by a great degree. If you're willing to put in the time to learn some scripting, you can make some amazing scripts that can make your form even more versatile.
While all these various Google applications cannot compare to their respective counterpart tools in terms of in-depth features, their accessibility and sharing capabilities make them an attractive draw for their users. In addition, Google Drive ties them all neatly together by creating a cloud-based storage platform where all these software can be accessed, stored and shared from. As Google continues to expand its reach to users across the globe, it has successfully begun to close the gap between people looking to work and collaborate on projects remotely thanks to this useful program suite.